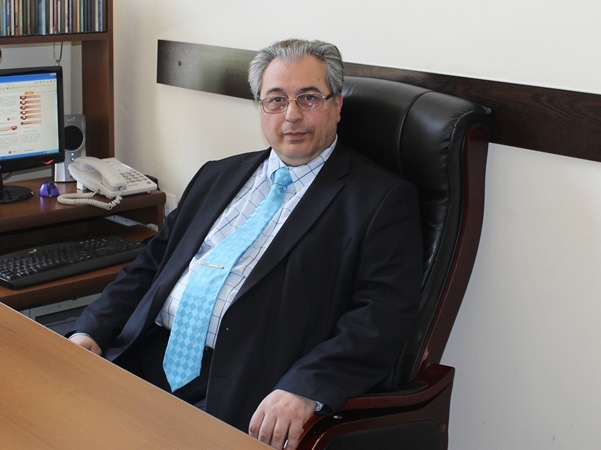 Eduard Ghazaryan
Doctor of Sciences, Professor
Acting Dean
Contacts
74 Teryan, 0009 Yerevan, RA
I building, III floor, rooms #350 and #351
(+374) 10 52-37-30, int. 3-77, 3-39
Upon the decision of the Board of Trustees made during the session on November 6 the faculty of Agribusiness and Economics was established as a result of the unification of the faculties of Agribusiness and Marketing and Economics.
Faculty of Economics was established in 1967 and S.Titanyan was appointed as acting dean, and V.Grigoryan was elected as dean in 1968. Later S.Titanya, G.Davtyan, L.Margaryan also worked in the position of dean. Since 2009 E.Ghazaryan has been working as a dean. Such scientists as A. Marukhyan, P.Voskerchyan, M.Gevorgyan, A.Kirakosyan, S.Hakhverdyan, V.Qlyan have had a great contribution to the development of the educational process in the Faculty of Economics. Currently, the faculty has about one thousand students.
As the practical side of knowledge could lead to a deeper understanding of a concept through the act of putting ideas to the test and gauging the validity of theoretical claims, students in this faculty receive practical skills. And the industrial trainings are held in the leading industrial, agricultural organizations.
The faculty staff implements scientific researches in the direction of the following topics; improvement of agrifood organization industry, small and medium enterprise development measures, importance of cooperatives for the RA Ministry of Agriculture, effectiveness improvement methods, problems concerning optimal operation and functioning, methodology of their solution, improvement methods for management in enterprises and etc..
Professors and docents of the faculty supervise 40 Ph.D. students including students from the Islamic Republic of Iran. Lecturers are engaged in active scientific works.
The results of the researches are summarized in scientific articles. Some scientific suggestions have been implied in the industry. More than 100 monographs, 25 textbooks, hundreds of brochures, methodical instructions were published.
In recent years works have been done in the direction of educational process improvement.
After graduation students find appropriate jobs in the field of their specializations. The students of the faculty make interesting speeches, reports and receive certificates. In academic year 2013-2014 reports by faculty students have been published in international and local scientific journals.