Hello and Welcome to Armenian National Agrarian University
When it comes to the country's only agrarian, technological and research university ANAU gains a distinct advantage. Each faculty of our university has a unique strength and importance.
Armenian National Agrarian University is the best place to study agriculture. It is the best University in the region to earn a degree in agriculture and the only one in the country. ANAU has passed a glorious scientific and educational road, and the University is proud of its graduates who serve for the welfare and prosperity of our country. Currently, over 8000 students are here to accomplish their dreams to become the next agricultural specialist to make a change. Issues concerning the improvement and development of higher education, as well as the quality and utility of research works, have always been a priority for the university authority and the personnel.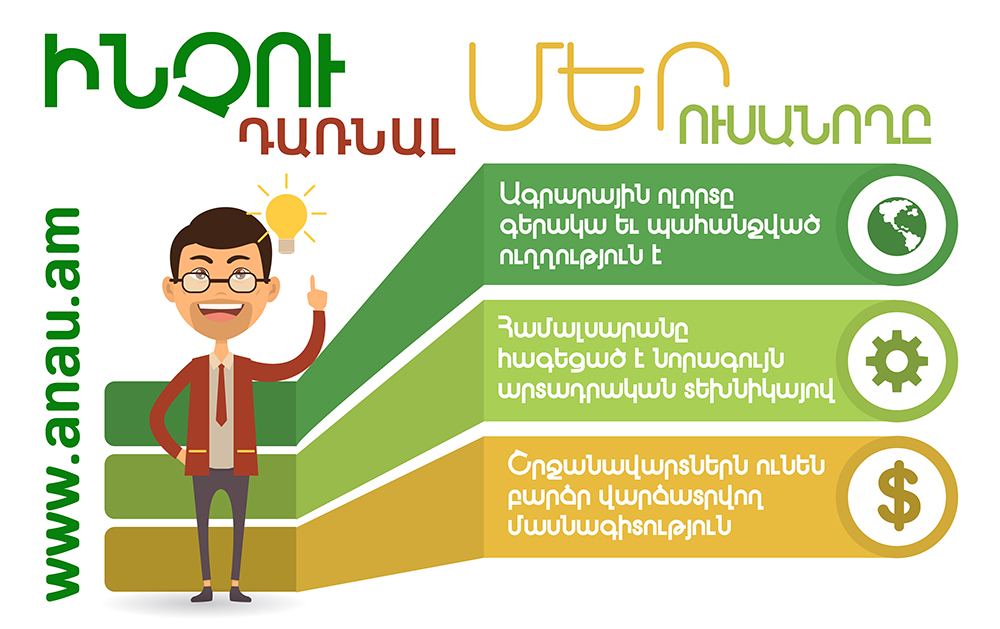 Main Characteristics

Full name

Armenian National Agrarian University
Abbreviation 
ANAU
Address
0009, Republic of Armenia, Yerevan, Teryan 74
 Phones
Reception +374 (10) 52-45-41
Chancellery+374 (10) 58-19-12
Fax
(+374 10) 522361, (+374 10) 581597
E-mail
info@anau.am
Rector
Vardan Urutyan
Studying Terms
Full-time and Part-time
Course length
4 – 4,6 year (Bachelor)
1-1,5 year (Master)
Beginning of Studies
Full-time: each year September 1
Part-time: according to curriculum
General Amount of Students
Full-time:  2366
Part-time:  3258
Tuition fee
Bachelor
Full-time:  440-600.000 AMD
Part-time: 360-490.000 AMD
Master
Full-time:  580-880.000 AMD
Part-time:  390-440.000 AMD
University Branches
Vanadzor
Sisian
Shirak