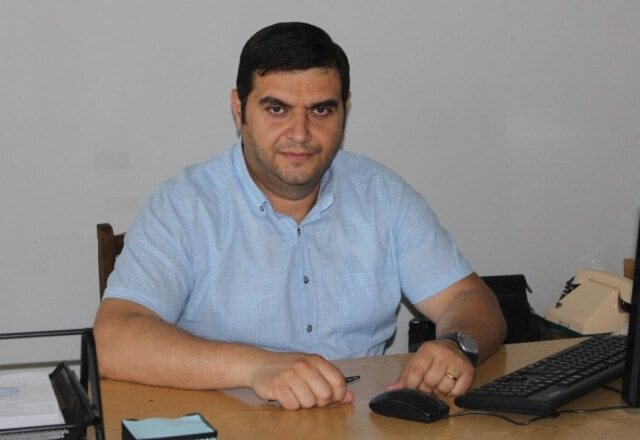 Arman Simonyan
Candidate of Sciences, Docent
Dean
Contacts
74 Teryan, 0009 Yerevan, RA
II building, III floor, rooms #331
(+374 95) 58 19 22, int. 2-83, 2-73
Transpotation and Road Traffic Organization and Management
Land Management and Land Cadastre
Land Reclamation, Use and Storage of Soil and Land Resources
Agriculture Electrification and Automation
Agriculture Mechanization, Machinery and Equipment
Life Safety
Contacts
74 Teryan, 0009 Yerevan, RA
II building, III floor, rooms #331
(+374 95) 58 19 22, int. 2-83, 2-73
The faculty of Agrarian Engineering was established on November 6, 2018 in result of the unification of the faculty of Agricultural Mechanization and Automobile Transportation and the faculty of hydro-melioration, land management, and cadasters.
Faculty of Agricultural Mechanization of Armenian Agricultural Institute was established in 1942. The first dean of the faculty was A. Matevosyan. Then the faculty was headed by A. Mkrtchyan, S. Sahakyan, Z. Melkonyan, G. Aghajanyan, H. Maksapetyan, V. Atomyan, G. Karapetyan, Ts. Qanqanyan, H. Sargsyan. After the establishment of Armenian Agricultural Academy in 1994, the faculty of Engineering was established.
Faculty of Hydromeloration was formed at Armenian Agricultural Institute. Later on the faculty has been reformed several times. The faculty was headed by professor S. Ghazaryan, P. Efendyan, G. Eghiazaryan, and A. Aghasaryan.
Issues concerning different crops' growing, harvest mechanization, agriculture machinery exploitation and technical service methods' improvement, agricultural electrification, research of exploitation capabilities of automobiles, effective growth of transportation means, reliability growth issues. So far, various textbooks, manuals, as well as monographs, recommendations, scientific articles and educational methodical works have been published.
The faculty has carried out collaboration programs with a number of organizations such as: State Committee of Water Economy, State Committee of the Real Estate Cadastre, Centre of Geodesy and Cartography, Land Management Monitoring, Media Centre, Media, Cadastre territorial divisions, regional, local authorities and Ministry of Emergency Situations of the Republic of Armenia.
Special attention is paid to students' practical skills. Internships are usually organized in leading farms and enterprises. The most part of lecturers are engaged in scientific works.