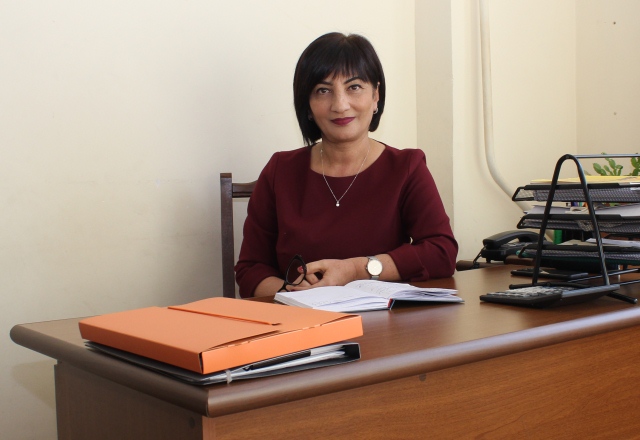 Ruzanna Pilosyan
Candidate of Sciences, Docent
Chair
Contacts

ANAU, II building, room #436, 437, 439, 442, 401, 504, 540, 538/B
74 Teryan Str., 0009, Yerevan, RA
(+37412) 52 83 79, int. 2-19, 2-18, 2-51,
3-09
The activity of the chair is closely related to the development prospects of the university and is carried out in accordance with the three-level system of higher education.
In 2018-2019, the curriculum of Armenian and foreign languages was drawn up in a new way, in line with modern requirements and taking into account the professional orientation of the university. The courses are practical: they are carried out through discussions, practical exercises and new teaching methods are used – modeling of the communication situations, work in pairs, groups, role-playing games, presentations. The Internet is widely used, the activity of students' participation is of great importance, and alternative approaches to the posed questions are encouraged. Attempts are made to develop critical approaches, to develop basic communication skills. Students are given the opportunity to participate in additional foreign language courses, thus filling not only what was left out, but also deepening the knowledge gained.
It is expected that after the completion of the courses, the student will be able to use the gained knowledge in composing oral and written literate speech, presenting the assigned material convincingly, communicating in a foreign language in simple situations. He will also be able to make a report within the defined period, debate at a proper level, defend his/her own point of view with arguments, to reverse and answer the listeners' questions.
Research activities in the chair are carried out in three directions: lexicography, development of language teaching methodologies, philological-linguistic studies of Armenian and Russian languages. One of the important directions in the development of language teaching methods is the development and strengthening of the linguistic-psychological foundations of teaching methodology. In this direction, seminar classes are held every year in the chair, experienced specialists from other universities are invited. In this regard, the chair closely cooperates with State Linguistic University after V. Bryusov and the State Pedagogical University after Kh. Abovyan.
The lecturers of the chair regularly participate in republican and international conferences, trainings with different international programs.
The lecturers of the chair also help students in preparing scientific reports on various topics in Armenian and foreign languages and presenting them in student conferences.
The Chair of Armenian and Foreign Languages was established as a result of the resolution of ANAU Board of Trustees on November 6 at 2018, in result of unification of the Chair of Armenian and Russian Languages and the Chair of Foreign Languages.
The chair of Armenian and Russian languages was formed in 1994, when the Armenian Agricultural and Yerevan Animal Husbandry-Veterinary Institutes and therefore their appropriate chairs were united.
The Chair of Languages of the Armenian Agricultural Academy, then of the Armenian State Agrarian University and the Armenian National Agrarian University was once headed by M.M. Ghukasyan, R.N. Arzoyan, M.E. Babayan, N.P. Sargsyan.
Chair Staff
Nona Gasparyan – Candidate of sciences, Docent
Ruzanna Shahinyan – Docent
Mara Arustamyan – Candidate of Sciences, Senior lecturer
Anahit Vardanyan – Senior lecturer
Maro Poghosyan – Senior lecturer
Rima Hovhannisyan- Senior lecturer
Elena Hovhannisyan – Senior lecturer
Gohar Marshuryan – Senior lecturer
Armine Mkrtumyan – Candidate of sciences, lecturer
Araks Hakobyan – Lecturer
Liana Sargsyan – Lecturer
Narine Abazyan – Lecturer
Liana Vardanyan – Lecturer
Sona Hakobyan – Lecturer
Mariam Ghevondyan – Lecturer
Karine Gevorgyan – Lecturer
Gagik Kiakosyan – Lecturer
Gayane Dallaqyan – Assistant
Karine Tovmasyan – Assistant
Anush Avetisyan – Assistant
Gayane Zazyan – Assistant
Emma Mkheyan – Assistant
Satenik Arzumanyan – Assistant
Lilit Manukyan – Assistant
Lilit Samsonyan – Assistant
Marieta Kochlikyan – Assistant
Galina Soghoyan – Assistant
Svetlanna Grigoryan – Assistant
Narine Hakobyan – Assistant
Gyulnara Olshevskaya – Specialist
Marine Davtyan – Specialist
Subjects
Armenian
Armenian Literature
Armenian and Culture of Speech
Technical Writing
Russian
Professional Russian (dual)
English
Professional English (dual)
French
German
Latin
Technical Writing and speaking
Analytical Writing
Foreign Language (business level)
Professional Foreign Language