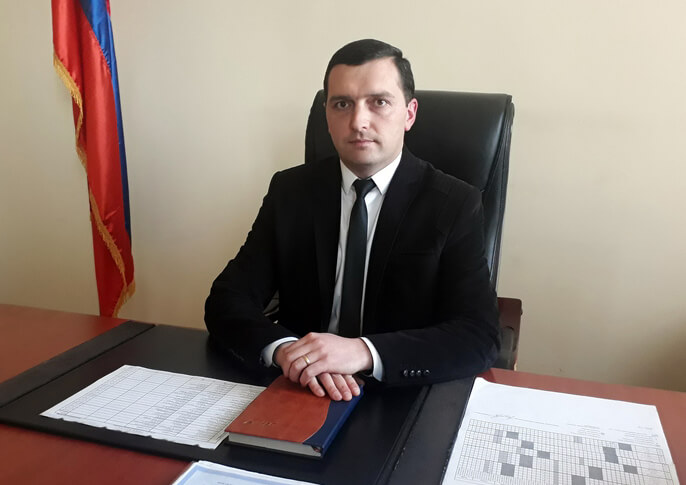 Tigran Vandunts
Candidate of sciences, Docent
Acting Director
Sisian branch of Armenian National Agrarian University was established upon the RA Government resolution N.976 on June 25, 2004. In 2006 the branch received an academic building. The first admission was held in 2005-2006 academic year for seven specialities. The branch has over 390 graduates and more than 65 percent of them are working by their profession.
Higher education is available only with part-time program. Graduates receive bachelor degree in the following specialities 
Agronomy, selection and genetics
Milk and dairy products, baby and functional food technologies
Land Management & Cadastres
Agroecology and Economics of food industry
Accounting and taxes,
Veterinary and Sanitary Expertise,
Selection, genetics and biotechnologies of livestock.
Currently over 190 students study at Sisian branch of ANAU Foundation from different regions of Armenia. Tuition fee discounts are offered to students.
The branch has high-quality classrooms, agro-biological, technological and natural science labs, and a rich library. Library and labs are being replenished with required funds year by year.
The branch has two structural subdivisions;
1. Department of economical, raw material and social sciences (Head – K. Hunanyan),
2. Department of agrotechnological and natural sciences (Head – A. Ghoghunts).
25 lecturers out of 50 are invited from ANAU.
Classrooms replenished with electronic blackboards and computers let the branch students take in-distance lectures by ANAU lecturers.
The branch administrative staff, taking into consideration the importance of students' theoretical knowledge implementation in practical use, takes measures to make contracts with different entrepreneurs.
In 2016 memorandum of Cooperation was signed between ANAU Sisian branch and "Strategic Development Agency" Non-governmental Organization in framework of "Development of Vocational Education and Training in Syunik Region", the latter aims to improve vocational education in the field of agriculture and make hands-on education available.
Since its establishment till 2016 the branch was headed by A. Konstandyan. In 2017-2018 the acting head of the branch was H. Baghdasaryan and since 2019, upon the ANAU rector's resolution Tigran Vandunts, candidate of economic sciences, docent,  has been appointed as director of the branch.
Since academic year 2007-2008  the branch has started its full-time activity which gives an opportunity to students with high progress to continue their education at higher courses of ANAU main campus by the relevant professions. The branch has a library with professional literature and fiction. The library fund is being  replenished regularly with professional books of last publication.
Students' pre-diploma practical training is being held at state and private organizations, as well as in the educational-experimental department of the branch. Lectures are  held in accordance with the modern teaching techniques.
The branch has an educational-experimental department, where students and assistants carry out their fundamental and hands-on practices.
A greenhouse of 100 sq.m., financed by Sisian regional development program of "World Vision" child-focused and community-based organization, was built and put into operation in the territory of the branch where the branch students enrich their hands-on knowledge.