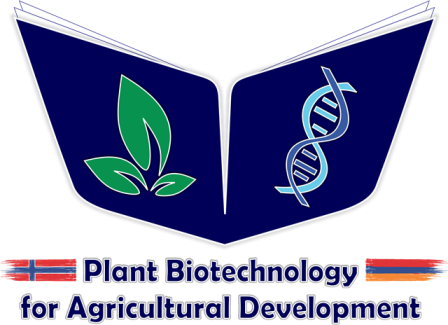 Norway-Armenia cooperation in plant molecular biology and biotechnology for agricultural development
A new education project on plant biotechnology between Norway and Armenia is starting at ANAU. The project is funded by the Eurasia Programme of the Norwegian Centre for International Cooperation in Education and will run from 2017 till 2019.
For more information about the project and recent updates, please, contact
Professor Dr. Andreas Melikyan – a_melikyan@yahoo.com
Dr. Zara Harutyunyan – kukurikus@yahoo.com
Dr. Anna Avetisyan – anna.avetisyan@uit.no
Program Description
The project between UiT The Arctic University of Norway, the Norwegian Institute of Bioeconomy Research, the Armenian National Agrarian University, the Scientific Center of Vegetable and Industrial Crops and Yerevan State University aims to strengthen the quality of education in Armenia for better fit to the Bologna process, develop and update a curriculum for molecular plant sciences in Armenia and training of highly qualified specialists to meet the demands of more and better food and feed production. It aims also for development of research-based education in the agricultural sector of Armenia by bringing together the academic institutions and commercial enterprises with active involvement of students in ongoing projects.
The main activities consist of students' mobility and their active involvement in research activities, internships and trainee agreements. Beyond that, joint development of courses, teaching and supervision, implementation of intensive short courses and field work as well as workshops and seminars are planned in order to create an effective working platform for development and management of the common goals.
The project calls to further the internalization of higher education and improve the academic and scientific ties between Norway and Armenia. It aims to improve the educational basis for qualified specialists that intend to become Norwegian partners in future long-run research collaborations. Project activities will endorse quality of education and contribute to closer cooperation of the participating institutions at the national level. It is anticipated that the project will also promote stability and prosperity and connect the strands of Eurasian and European science.
Eligibility
The program is planned primarily for postgraduate students (MSc and PhD), however talented undergraduate students, willing to participate in the project, will be considered and are welcome to apply. Knowledge of basic biological disciplines is a prerequisite. The project activities and the courses will be mostly in English; therefore good knowledge of English is required.
Scholarships
Scholarships are available for students' research work in Norway and Armenia. The selection criteria for scholarship award include:
general study progress (grades),
motivation (motivation letter),
passed English test (for trainings in Norway).
Preparative English Courses General and Scientific English courses are offered for the project participants. There is no fee for participation in the project. This program is open also for postgraduate students from other universities. Interested students are welcome to apply.
Contacts
74 Teryan Street, 0009, Yerevan, RA,
I building, room #127
Phone/Fax +37412 58-58-08, +37412 56-74-11, int. 401, 402
E-mail: inter@anau.am, garegin77@gmail.com