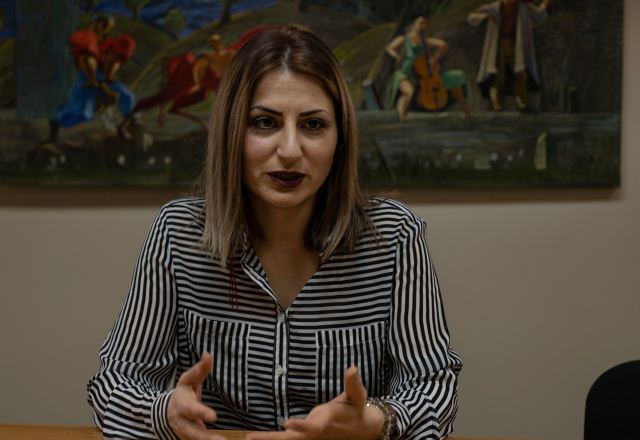 Armine Abrahamyan
Department head
Contacts
74 Teryan Str., 0009, Yerevan, RA, I building, room #252
(+374)10 54-51-58, Int 3-37
Our mission is;
"Today's research is
the smart growth of tomorrow's agriculture"
The vision of the Unit is to increase the internalization of ANAU research activities and to build capacity for ANAU scientific and research centers, which in turn will contribute to innovation and development of agriculture in the country. The main goals of the International Resaerch Programme Coordinating Unit is to
Strengthen and increase the institutional capacities of scientific centers through the development of research novel directions and methodologies within the international research projects;
Increase the proposal writing capacities and skills of employees of research centers for competitive international research projects through the relevant trainings, team work and mentorship.
Coordinate and control international research project proposals presented by scientific and research centers. Support in creating and maintaining partnerships and additional fundraising.
Create and activate research cooperation with world's leading research and technological centers, institutes and universities.
Enhance the development of science-education-industry links at ANAU.
Increase participation of researchers in the international research conferences, seminars and networking meetings.
Organize national and international conferences and workshops within the framework of international projects.
Activate and develop agrarian research, extension, state policy and business sector connections by strengthening collaborations within relevant infrastructures.
International Research Programme Coordinating Unit on Facebook.
Currently, the International Research Programme Coordinating Unit is conducting the BioDATA project, funded by the Norwegian Agency for International Cooperation and Quality Enhancement in Higher Education (DIKU).
The aim of the project is to transfer and develop biodiversity data management and publishing modern methodologies and tools within the specialist and scientists in the sphere of agrarian, ecological and biological higher education and research.
In the partner universities, it is planned to organize five intensive courses to enhance capacity building over a three-year period.
The project target groups are:
Students
Researchers
Main partner institutions are the University of Oslo (NO-UiO) Natural History Museum, Norway and Department of Research and Collections, Institute of Botany, Plant Physiology and Genetics departments, Republic of Tajikistan ։
Institute of Genetics and Cytology of the National Academy of Sciences of Belarus (Minsk, Belarus)
Armenian National Agrarian University (Yerevan, Armenia)
Kharkiv National University (Kharkiv, Ukraine)
Global Biodiversity Informational Facility Norway, National Node.