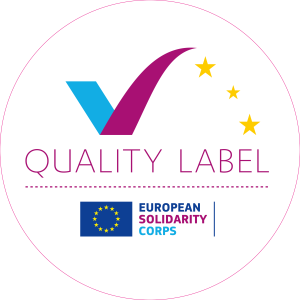 The European Union is built on solidarity, a shared value which is strongly felt throughout European society. Solidarity defines the European project and provides the necessary unity to cope with current and future crises by holding a strong moral ground. Solidarity provides a clear compass to guide the European youth in their aspirations for a better Union.
Young people need easily accessible opportunities to engage in solidarity activities, which could enable them to express their commitment to the benefit of communities while acquiring useful experience and competences for their personal, educational, social, civic and professional development, thereby improving their employability.
The European Solidarity Corps brings together young people to build a more inclusive society, supporting vulnerable people and responding to societal and humanitarian challenges. It offers an inspiring and empowering experience for young people who want to help, learn and develop and provides a single entry point for such solidarity activities throughout the Union and beyond.
The EU Youth Strategy is built on three core areas of action:
Under ENGAGE, the EU Youth Strategy aims for a meaningful civic, economic, social, cultural and political participation of young people. The Strategy fosters youth participation in democratic life, supports social and civic engagement and aims to ensure that all young people have the necessary resources to take part in society.
Under CONNECT, the EU Youth Strategy underpins opportunities for young people to experience exchanges, cooperation and civic action in a European context first hand.
Under EMPOWER, the Strategy aims at supporting youth work in all its forms as catalyst for the empowerment of young people across Europe.
The general objective of the Programme is to enhance the engagement of young people and organisations in accessible and high-quality solidarity activities, primarily volunteering, as a means to strengthen cohesion, solidarity, democracy, European identity and active citizenship in the Union and beyond, addressing societal and humanitarian challenges on the ground, with a particular focus on the promotion of sustainable development, social inclusion and equal opportunities.
The specific objective of the Programme is to provide young people, including young people with fewer opportunities, with easily accessible opportunities for engagement in solidarity activities that induce positive societal changes in the Union and beyond, while improving and properly validating their competences, as well as facilitating their continuous engagement as active citizens.
The project priorities are:
Inclusion and diversity
environmental protection,sustainable developmentand climate action
digital transformation
participation in democratic life
prevention,promotion and supportin the field of health.
In 15th December Armenain National Agrarian University was awarded a Quality Label in volunteering issued by SALTO Eastern Europe and Caucasus Resource Centre (until 2027)։
Details of the Quality Label
Hosting role: possibility to host 2 long-term volunteers at a time in each of the locations below:
Armenian National Agrarian University in Yerevan – 2 long-term volunteers

Vanadzor Local Branch of ANAU – 2 long-term volunteers
The Quality Label number: 2020-1-PL01-ESC52-096512
The Quality Label is valid until 31.12.2027