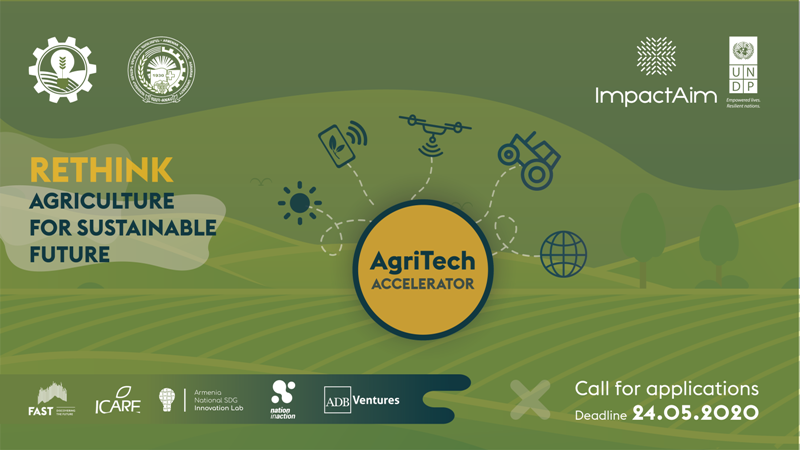 About the Program
IMPACT AIM ANAU AgriTech Accelerator program is designed to support science and technology-backed startups and budding entrepreneurs offering solutions to tackle challenges in the agricultural sector of Armenia and worldwide. The program is launched by UNDP ImpactAIM Accelerator and implemented jointly with Armenia National Agrarian University (ANAU), International Center for Agribusiness Research and Education (ICARE) Foundation, Foundation for Armenian Science and Technology (FAST), Nation in Action initiative, is supported by Armenian National Innovation SDG Lab and ADB Ventures Facility.
AIM ANAU AgriTech Accelerator program is
AIM ANAU AgriTech Accelerator program is the follow-up phase of the ANAU AgTech incubator launched in 2019 at Armenian National Agrarian University (ANAU) with a 10-week pre-incubation training program and deep learning workshops for 44 participants including ANAU students and the young professorship. Several monetary prizes were awarded. One of the main outcomes of the program is the construction of the venue for ANAU AgriTech Incubator in the premises of ANAU with an expected opening in September 2020 granting students and professors the opportunity of testing their entrepreneurial projects in real life.
AgriTech Acceleration program aims to provide the necessary knowledge, expertise, network, and funding for setting up, and/or scaling up existing ventures. Gap assessment is conducted to offer a tailored program best fitted to the participants' individual needs.
The full program will last 3 months followed by further prototyping sessions and scale-up schemes. The program will be conducted online and in three stages:
Onboarding sessions
1 month-long series of sessions to get entrepreneurs on the startup spaceship, elaborate on the impact of frontier technologies on agriculture, and laying the foundation of participants' sustainable growth.
Core startup development sessions
a structured curriculum for budding entrepreneurs and a more tailored program for startups. This stage will walk the participants through the entrepreneurial journey: from customer to product development, from business development to investment pitches.
Follow up and prototyping sessions
Sessions led by agronomists and farmers about current challenges and opportunities and unique access to ANAU's lab environment to build the prototypes to be tested by partnering farmers.
Important to Know
Onboarding sessions will be open for everyone, and obligatory only for Idea, Pre-seed/ Seed stage teams and Individuals, as they will pass to the next stage of the program based on their commitment and participation. The growth stage ventures will decide whether they want to join or not.
Budding entrepreneurs (idea stage): to introduce and develop entrepreneurship culture by providing fundamental knowledge and practical skills.
Pre-seed and seed-stage startups: to take them through the entrepreneurial journey with each module being specifically designed to cover their needs. The track offers a structured curriculum and is mostly based on coaching on startup development modules and mentorship.
Growth stage startups: to provide tailor-made coaching and mentorship. The core component of the track is growing the network of startups to further scale their venture.
The program targets only science and technology-backed startups (pre-seed, seed, and growth stage) and budding entrepreneurs (Idea Stage). Individuals, teams and registered entities (CSO/NGO, LLC, LTD, etc.) both from Armenia and around the world are eligible to apply if they offer solutions to tackle the following challenges in the agricultural sector:
DATA-DRIVEN AGRICULTURE
Efficiency and productivity will increase in the coming years as "precision agriculture" becomes bigger and farms become more connected. It's estimated that by 2020, over 75 million agricultural IoT devices will be in use: The average farm will generate 4.1 million data points daily in 2050, up from 190,000 in 2014.
Internet of Things (IoT)
Automation of skills and workforce
Data-driven farming
Chatbots
Drones
ONLINE MANAGEMENT SYSTEMS AND E-COMMERCE
Easy to use digital platforms for accounting and financial reporting
| Payment and optimization systems for agriculture services
Land modeling and sales
Online sales and delivery systems for farmers
Training and advisory services in rural areas
Sustainable pasture management systems
INCREASED EFFICIENCY IN FOOD PRODUCTION VALUE CHAIN THROUGH NEW TECHNOLOGIES
GENETIC MODIFICATION AND CULTURED MEATS
VERTICAL AND URBAN FARMING
APPLYING 3D PRINTING TECHNOLOGY TO FOOD
SUSTAINABLE PACKAGING: BIOPLASTICS
*The solutions that also target responding urgent
challenges caused by COVID-19 in the short and long terms,
will be considered of higher priority.  
Access to funding
Access to funding is an integral part of the program. To fuel the further growth of successful ventures, the program is partnering also with ADB Ventures. ADB Ventures was established in January this year to support and invest in technology-driven businesses with significant potential to scale and deliver impact. Its inaugural ADB Ventures Investment Fund 1 has a 17-year fund life and supports early-stage and growth-stage cleantech, agricultural technology, fintech, and health technology businesses. Its focus will be on companies with solutions that can address climate change and empower women.
Promising startups will also receive an opportunity to pitch in front of the investors from the Science & Technology Angels Network (STAN). The global scale-up perspective envisions that the most promising startups will benefit from UNDP in Armenia – Cultiv@te: Innovation for Sustainable Agriculture initiative partnership. Cultiv@te program helps startups in the agriculture field by providing a number of benefits, including attractive prizes, partnerships, and investment opportunities, and the opportunity to scale up globally.
After the successful completion of each stage, the most promising graduates will receive monetary awards/grants of up to 10,000 USD.
Call for Applications: April 27 | Application deadline: May 24, 2020 |
Program launch: June 1, 2020
Application and selection process
Individuals (ready solution for the challenges in the agricultural sector IS NOT MANDATORY)
All the applicants are required to submit information about themselves and the reason for participation. Selected eligible applicants will be invited to take part in Onboarding sessions․ Successful participants will pass to the next stage of the program based on the following:
● Personal commitment: participation in the online sessions
● The level of involvement during the sessions
● Number and quality of submitted deliverables/assignments
Startups (idea stage, pre-seed stage, seed-stage and growth stage startups)
The application process is organized through the GUST platform. Applicants will be required to submit information on their product, market, competitors, the team, and the challenge they are targeting to solve.
All applicants will be invited to take part in Onboarding sessions․ (However, more advanced teams can skip the Onboarding Sessions and get direct access to the next stage) . For growth/mature stage ventures a specially tailored program will be organized adjusted to their personal needs.